Together We Rise
We are committed to our growth and evolution and are passionate about inspiring and supporting others in doing the same for themselves. Through her private Mentorship practice, Sharon guides women who desire limitless and high quality living and experiences.
We also love to support those who wish to have a thriving doTERRA business alongside of ours. doTERRA offers a wonderful financial opportunity and sustainable business, which we for one are very grateful for and it is our passion to support others in taking the lead in doing the same for themselves and their families.
Through partnering with others we have helped create a dynamic and thriving doTERRA business community with collaboration, strong friendships and support at the cornerstones. We are all about this new era, sustainable, flexible and supportive business model! Maybe you will be inspired to join us too…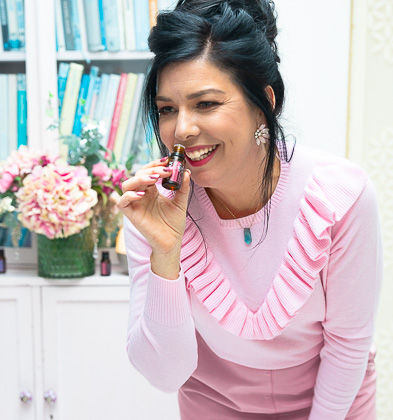 Sharon on her Leadership Style...
How I lead others starts with how I lead myself in my own life. I live consciously and intuitively, making very intentional choices in everything I do from how I behave, relate to others, communicate, eat, move, dress, parent and serve to name a few.
I choose to lead myself and others with integrity, authenticity, empathy, compassion, courage, vulnerability, passion, love and from an open heart. I like to challenge, step outside comfort zones, push boundaries of potential, shine a light on shadows and ask powerful questions to encourage growth and development. I'm a whistle-blower. I'm a way-shower.
Our Core Business Values
These are the principles, born from our heart, that guide everything we do.
Vulnerability
We know it takes courage to be vulnerable and we applaud it as it creates trust, empathy, compassion, understanding and powerful, wholehearted human connections which are at the core of healing and transforming lives and the planet.
Support
In our commitment to the support of our customers, business leaders and to our ambitious cause, we know we are empowered with everything we need for the journey and we know we can't walk it alone. We lean on and gratefully receive the support, input, creativity, knowledge and skillset of others to help grow, improve and achieve.
Freedom
We intentionally cultivate flexibility in how we live and work through movement, humility, letting go and embracing change, to create space and freedom to grow, expand and thrive in our fullest expression. We embrace any arising challenges as opportunities for discovery, growth and expansion. We value financial, time and personal freedom for the beneficial impact to ourselves and others in achieving high quality living and experiences.
Community
In today's world of increasing isolation and separation, never has community connection been so important. While we encourage self-acceptance, self-dependence and self-responsibility, we also value how community unites us, gives us a sense of belonging, being welcomed, acknowledged and loved. We strive to build strong, non-judgemental and compassionate customer and business communities where we feel connected, valued, supported and safe. We believe strong communities create powerful impact and influence and contribute to improving lives.
Ambition
Because we know and care, we are passionate about creating a significant impact, making a difference and leaving a legacy, for our own family and millions of others. Guided by our heart, we are prepared to take risks with confidence and unwavering faith. We lean on our 'why?' and values in times of challenge. We value and strive for excellence in everything we create and do, all the while maintaining high ethical standards and integrity in our dealings with competitors, customers, partners and each other.
Fun
Because this all sounds like very serious and grown up stuff we like to give our purpose a little tickle every now and again to remind us to connect with our inner child in being lighthearted, to have fun and to celebrate the big and small wins. Whether in times of challenge or triumph, we love to celebrate and have gratitude for ourselves, for others for our achievements and for everything life brings our way. We love to have fun when working too and may squeal frequently when our creations excite us.
Get to know Sharon a little more...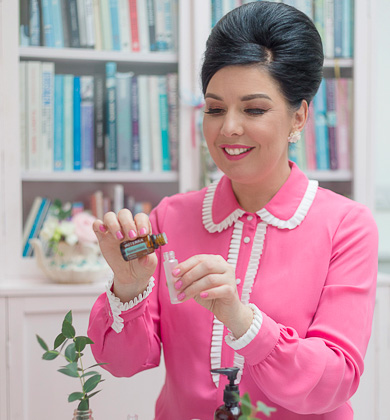 Sharon Loves Collaboration
It is my passion to lead and collaborate with a collective of other people with a similar drive and vision for making change to improve their own lives and that of others. My own direct doTERRA team, the Essential Leaders, showcased below, are an incredible inspiration to me and I am so grateful for and really value every single one of them and all that they are and do. I see in each of them their unique talents, skills, purpose and shining essences. I honour them for the challenging personal work they continuously do for themselves, their loved ones and in order to better serve others. They are truth speakers, intuitives, healers and courageous souls. Click their name below to learn more about their passion, why?, favourite oils and values.
Meet the Essential Leaders
Our doTERRA Mentors & Other Leaders we Support

Sharon's business mentoring is unconventional in that it's not just a business course, but she has the unique ability of intuitive insight, a deep wisdom and a very sensitive and gentle way of being that powerfully helps move mountains. Before working with Sharon 1:1, I felt completely stuck, isolated, a bit depressed and sad. She became the support and cheerleader I so desperately needed. Sharon helped me breakthrough a huge emotional block which I had been avoiding.

I love how Sharon combined my love of oils and meditation with the practical element of starting a business. Before working with Sharon, I held fear of making the leap and putting myself out there. I had Imposter Syndrome and no confidence. After, I felt I'm ready and achieving my goal is possible for me. Working with Sharon was the step I didn't even realise I needed!

Sharon is that rare leader who inspires others to grow and make a difference by forging grace, aesthetics, compassion and competence into a uniquely powerful form of teaching, guidance and coaching. I appreciate and admire her courage, capacity and loving way of engaging and following through. She is a gift to all who have the good fortune of working with her.

Before working with Sharon 1:1, I had self-belief but was feeling overwhelmed at the thought of all the to-do's in setting up my new business. Despite having a huge passion & a real surge of knowing I wanted to do this, I didn't know where to start. Sharon helped me break through my blocks and really inspired something within me to come alive. Knowing she could clearly see my vision, believed in me and was totally invested in what I wanted to achieve was everything.

The breakthroughs I had in my very first 1:1 session with Sharon were incredible. She got to the core of issues that I have had for years just within the first hour and I feel like I have a completely different outlook on everything. She is kind, competent and just an absolutely beautiful and inspiring person! Her guidance is worth her weight in gold and I feel so blessed to now be in her universe. I feel renewed and empowered!

Even the name Entrepreneur sent shivers down my spine. I was feeling stuck, stagnant & uncertain in my business. I was watching Sharon online from a safe comfortable distance, liking, admiring, dreaming but never, ever really thinking I would sign up for her help. After spending a weekend in one of her Business Bootcamps, I am moving forward with more excitement, motivation & with greater clarity.  My biggest breakthrough was through learning techniques to change limiting beliefs about myself. Sharon's commitment to learning, self-development & helping other women shines through.

I'm grateful for Sharon's help in Business Bootcamp. Before it, I had a crisis of confidence and self-belief. I felt nervous and had fear of the unknown. I was prompted to think about things differently and I had a lightbulb moment that the answers are within me and I need to stop waiting for someone to give them to me. I feel optimistic about the future and am clear about my next steps in making my dreams come true.

Before attending Sharon's Business Bootcamp, I felt a lack of self-confidence and self-worth, mental blocks that make me procrastinate. I appreciate Sharon as she motivates the heck out of me! My highlight take-away is the power of meditating and learning that manifesting our future is within ourselves. After, I could see the road ahead more clearly, felt more free, valued myself more and remembered my passions.

My biggest take-aways from working with Sharon's Business Bootcamp was learning how to transform beliefs to help bring me to where I want to go, developing my skills list, using music to move energy and I loved the sense of community and connection Sharon created. Before, I felt stuck, like my wheels were spinning, a lack of confidence and frustrated about the effect of all of this on my business. After working with Sharon, I felt inspired with new money generating ideas and now have new tools to help me through my challenges.

Before joining Sharon's Business Bootcamp, I did not see myself as a CEO of my business, felt guilty about leaving the kids for work, hated the thought of 'selling' and  lacked self-belief and confidence. With my new found confidence I gave myself permission to step out of the Mom flats and into my CEO stilettos. I contacted potential customers and made eight new sales!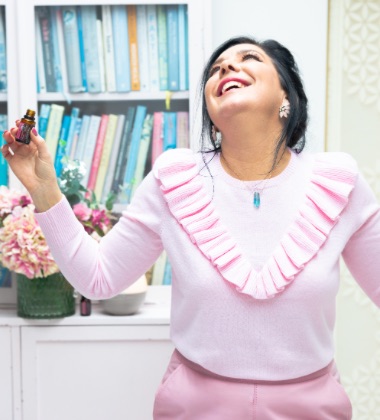 "Our deepest fear is not that we are inadequate, our deepest fear is that we are powerful beyond measure. It is our light, not our darkness, that most frightens us."
Join Our Essential Leaders
Our Essential Leaders Collective needs many more people to help illuminate the path on our mission… and so we have leadership places available. If you are driven, passionate, self-motivated, open to personal growth and development, courageous and committed, then let's chat to see if we align. Even if you are already currently employed, are a stay at home parent or would like to add an additional stream of income to your health & wellbeing business for example, we will support, guide and mentor you in setting up a doTERRA business that works for you.
1:1 Mentorship
Through her private Mentorship practice, Sharon guides women who desire limitless and high quality living and experiences. Contact us for a brochure with details and to check availability.